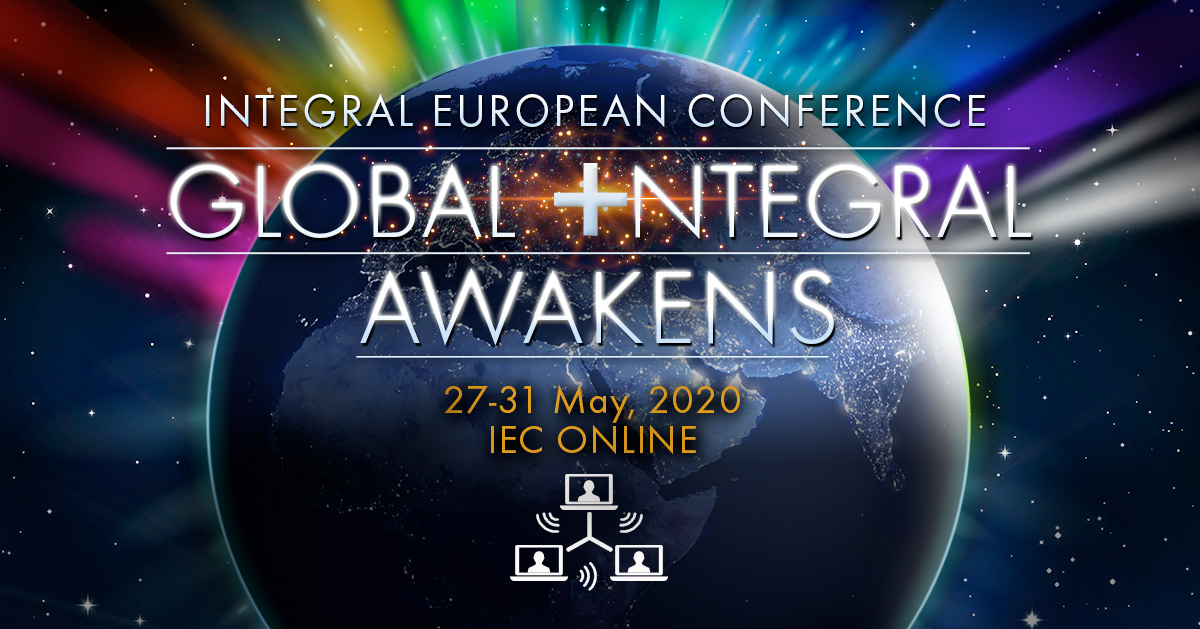 Integral Approaches to Leadership, Power and Organizations
How does integral apply to business and organizational development?
Come join IEC Online this May and find out!
Learn from IEC Online presenters
Christiane Seuhs-Schoeller
& Diana Claire Douglas
Spiralling through Love and Power
Bringing three decades of entrepreneurial experience and pioneering new ways of organizing, Christiane today is deeply engaged in finding practical applications for human endeavors to serve people and planet equally. As a partner of Evolution at Work and encode.org, her work is driven by the intention to support the ongoing universal shift of consciousness through co-creating new ways for enterprises to follow self- organizing principles, thus shifting power from "power over" to "power with".
Diana Claire Douglas, Systemic facilitator, coach, consultant, author, founder of Knowing Field Designs; lead facilitator of Systemic Constellation Work (SCW) with The Hague Centre and Integral City. She is committed to offering Constellating for the Collective— through monthly gatherings, retreats, workshops, on-line sessions and at international conferences. At IEC2018 she was on the planning and facilitation team for the All-Community Constellation.
The evolutionary drive towards Interdependence counters fragmentation and duality caused by the separation of Love and Power." What happens when Love and Power are experienced as One? Using Spiral Dynamics as the structure, participants will experience Love, then Power, then Love and Power through the spiral. How does this Love shift and Power shift inform us individually and collectively in how we take action in the world?
Tom Thomison
Power Shift Ecosystem
A seasoned entrepreneur with more than 30 years of experience, Tom Thomison is a recognized leader in self-organization methods and practices. In 2007, he co-founded HolacracyOne to further develop and mature Holacracy®, a replacement for conventional management hierarchies.
Today Tom is a Founding-Member and Partner at encode.org, an organization focused on the creation of necessary structures to further support self-organization and the power shift needed for the new world of work.
Our economic systems have outlived their usefulness and are taking their toll on people and planet. Humanity's consciousness is evolving – a deep yearning for collaboration calls for a shift from "power over" to "power with", for being powerful together in service of the greater whole.
But what is that power shift? And which role does the economy play in all this?
Learn which 3 foundational building blocks – when put together – form a broader, power shifted economy:
Power shifted legal and capital structures: moving from subservient entitlement as an employee to earning a living through ownership and the investment of energy, time and talent in purposes people are aligned with and care about.
Power shifted organizational structures: organizing purpose-oriented work with distributed authority and dynamic steering; holarchic, autonomous and transparent. 
Power shifted people structures: encouraging and supporting independent agents of purpose to find and engage with purposes they care about and catalyzing the economies of scale with the groups of purpose agents' purchasing power for social benefits, insurance and investment programs, training programs and much more.
Joost Schouten
Scaling the Power Shift
I aim to create a work environment where we can all contribute to organisations that align with our personal values and do so in social structures where we can show up without anxiety. I do this by helping organisations self organise around a clear purpose as a Holacracy Coach at Energized.org, build software supporting organisations in this transition as a partner at SlashMe.com and help Purpose Driven organisations scale through funding as a partner at PowerShift Capital.
It is our commercial organisations that are capable of tremendous impact. Yet this impact often is not a reflection of the values and needs of those working in the organisation or those impacted by the organisation. More often than not the impact is experienced as decremental to the societies they function in. This is a symptom of mismatched incentive structures. The incentives of a few owners of the organisation and their ability to drive its course versus the incentives of all those contributing to and effected by the organisation.
In this session I would like to explore these incentives and some solutions around how to align these opposing forces. And how we can harness the tremendous ability to impact our societies with commercial organisations in a way that is reflective of its collective needs. So let's explore how funding organisations can be a catalyst for a purpose and value driven society.
Brian Robertson
Holacracy®: Encoding Teal into your Organization's
Brian Robertson is the world's foremost expert on Holacracy, a revolutionary framework for self-managing organizations. After years as CEO of an award-winning software company, he co-founded HolacracyOne to share this innovative method with other organizations.
The Holacracy framework integrates the collective wisdom of individuals throughout an organization and offers a toolset for each person to enact meaningful change at any level of work. The result is increased transparency, greater accountability, constant innovation, and agility across the company.
Holacracy is used by over 1000 companies today – in healthcare, insurance, banking, retail, technology, nonprofit and government sectors and in places as diverse as Dubai, Shanghai, Amsterdam, London, Berlin, New York, Bangalore, Las Vegas and rural Africa. Brian is thrilled to see this method take root and grow with such force. Brian is the author of the book Holacracy: The New Management System for a Rapidly Changing World. He speaks at conferences, holds trainings and consults for organizations across the globe.
Reports about the state of the modern workplace reveal the management hierarchy's failure to unleash the potential of the people working within it. An overwhelming number of employees feel disengaged, disempowered, and disconnected from both colleagues and their organization's purpose. The efforts of even the most enlightened leaders are all too often hampered by the constraints of the outdated system in which they operate. How, then, can forward-thinking leaders fundamentally resolve the systemic issues that limit their organization's potential? Teal principles and practices hold promise, but many organizations aspiring to "go Teal" struggle with the gridlock that can plague flat management or consensus-driven decision-making.
Brian Robertson, the founder of HolacracyOne, offers an inside look at Holacracy – a practical, customizable framework for self-organizing. In Holacracy-powered companies, every team member gains a voice in evolving the structure and workflow of their team. In addition, each individual holds real authority to act as the "CEO of their role," making meaningful decisions without battling politics or power games.
Otto Scharmer
Theory U and Presencing for an Integral World
Dr. Otto Scharmer, Sr Lecturer at MIT, co-founder of the Presencing Institute & the MITx u.lab , author of Theory U & The Essentials of Theory U.
He is co-author of Leading from the Emerging Future, which outlines eight acupuncture points for transforming capitalism. His most recent book, The Essentials of Theory U, outlines the core principles and applications of awareness-based systems change.
Fundamental problems, as Einstein once noted, cannot be solved at the same level of thought that created them. What we pay attention to, and how we pay attention – both individually and collectively – is key to what we create.
What often prevents us from "attending" is what Scharmer calls our "blind spot," the inner place from which each of us operates. Learning to become aware of our blind spot is critical to bringing forth the profound systemic changes so needed in business and society today.
First introduced in Presence, the "U" methodology of leading profound change is expanded and deepened in Theory U. By moving through the "U" process we learn to connect to our essential Self in the realm of presencing – a term coined by Scharmer that combines the present with sensing.
Here we are able to see our own blind spot and pay attention in a way that allows us to experience the opening of our minds, our hearts, and our wills. This wholistic opening constitutes a shift in awareness that allows us to learn from the future as it emerges, and to realize that future in the world.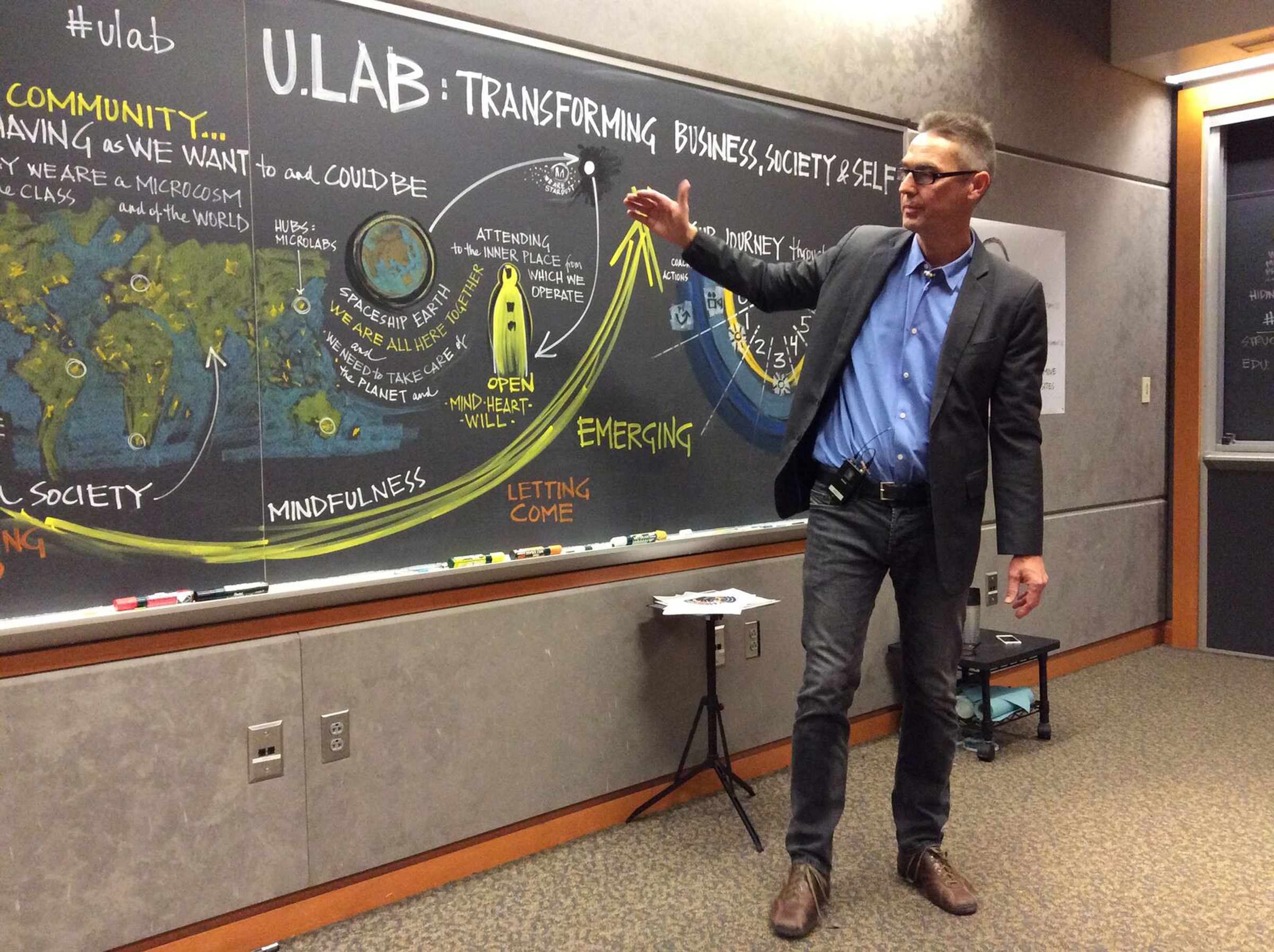 In 2015, Otto co-founded the MITx u.lab, a massive open online course (MOOC) for leading profound change, which has since activated a global eco-system of societal and personal renewal involving more than 140,000 users from 185 countries.
In 2019, he launched an annual innovation infrastructure called Societal Transformation Lab that supports place-based teams on reinventing economies, advancing democracies and regenerating learning and leadership systems worldwide.
This page is under redesign, please check back later. Sorry for the inconvenience.