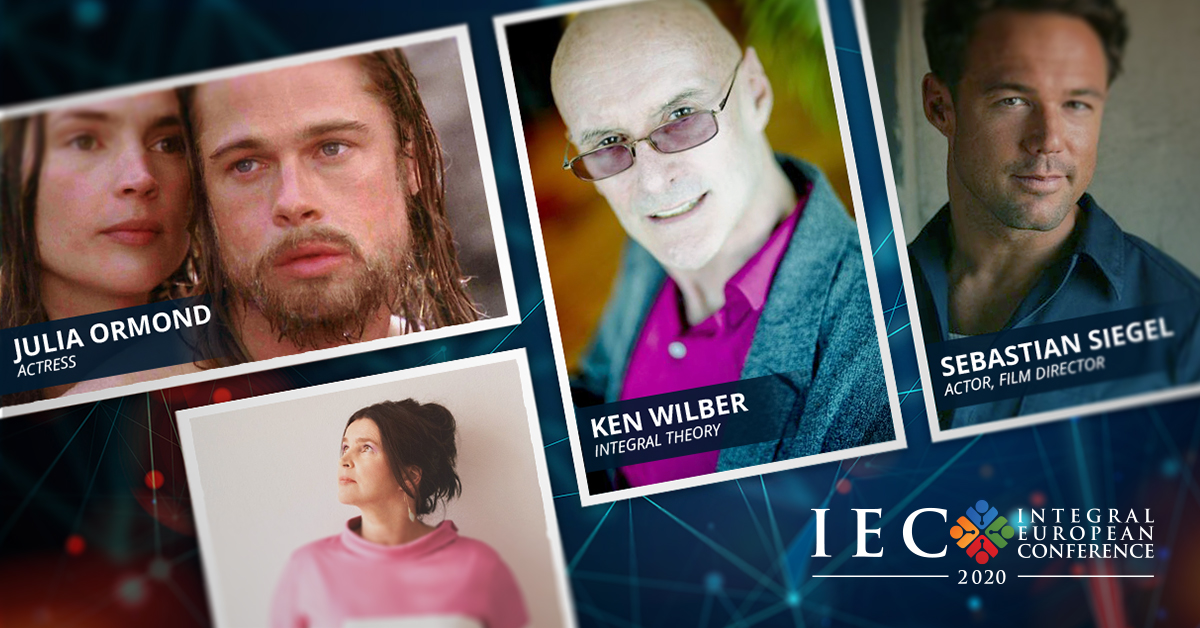 SPECIAL EVENING SHOW AT IEC ONLINE


30th May – Saturday
10:00 PM – 11:30 PM (CEST)
Live interview with Grace and Grit movie director Sebastian Siegel
followed by Integral Art dialogue with Ken Wilber and Julia Ormond
Film icon Julia Ormond interviews Sebastian Siegel, the director of the Ken Wilber movie Grace and Grit, and dialogues on Integral Art with Ken Wilber. Join IEC Online and listen to this fascinating conversation live!
Julia Ormond, British actress rose to prominence by appearing in The Baby of Mâcon (1993), Legends of the Fall (1994), First Knight (1995), Sabrina (1995), Smilla's Sense of Snow (1997) and The Barber of Siberia (1998). She won an Emmy Award for Outstanding Supporting Actress in a Miniseries or a Movie for her role in the HBO film Temple Grandin (2010).
On 2 December 2005, Ormond was appointed a United Nations Goodwill Ambassador. Her focus has been on anti-human-trafficking initiatives, raising awareness about this modern form of slavery and promoting efforts to combat it. In her capacity as ambassador, Ormond has appeared as counsel to the United States House of Representatives, Committee on International Relations, Subcommittee on Africa, Global Human Rights and International Operations, and has travelled the world as an ambassador.
Ken Wilber is the originator of the world's first truly comprehensive or integrative philosophy, aptly named "Integral Theory." As Wilber himself puts it: "I'd like to think of it as one of the first believable world philosophies" — something that is becoming increasingly necessary in order to navigate and thrive in today's world.
He is the most widely translated academic writer in America, with 25 books translated into some 30 foreign languages. Ken Wilber currently lives in Denver, Colorado, and is still active as a philosopher, author, and teacher, with all of his major publications still in print.
British-American filmmaker Sebastian Siegel wrote, produced, and directed the upcoming feature film, Grace and Grit, adapted from Ken Wilber's acclaimed book and true story. Sebastian authored the book The Consciousness Revolution, and has worked on-screen in a number of popular series including Hawaii Five-0, Quantico, Lost, and The Haves and Have Nots. He has written, directed, and produced a number of acclaimed film media ranging from festival trailers and commercials, to documentaries and feature films. Sebastian is largely influenced by Ken Wilber, Ramana Maharshi, Shunryu Suzuki, and as a filmmaker by Stanley Kubrick and Terrence Malick.
GRACE AND GRIT is the true story of iconic philosopher Ken Wilber and his wife Treya.
Adapted from the acclaimed book that chronicles Treya's journals, they fall madly in love in 1980s California and are immediately faced with challenges that tear them apart. They overcome by discovering connections beyond this world, and love beyond life. Starring Mena Suvari, Stuart Townsend, with Frances Fisher, Rebekah Graf, Nick Stahl, Mariel Hemingway, and written and directed by Sebastian Siegel. Anticipated in 2020.
The writer and director of the movie Sebastian Siegel and Bence Gánti started to plan to bring the movie to IEC 2020 and have it screened there for the global integral world audience! Sebastian might also join us for IEC personally to appear on stage and share with us his journey making this film, after Ken Wilber's keynote.
Also Roger Walsh, who introduced Treya to Ken with his wife Francis Vaughan, and appears in the movie will keynote at IEC Online 2020.
Watch the Movie Trailer below, and join us for the online conference where this deeply touching and honest love story will be discussed.
This page is under redesign, please check back later. Sorry for the inconvenience.