We are very excited and proud to announce that the Hungarian-born bestselling author, physician, trauma and addiction expert Dr. Gabor Maté from Canada will present his keynote speech in-person at IEC 2022, on May 28th!
Last year, his keynote was one of the highlights of IEC Online 2021.
Learn more about his speech on the topic of:

Beyond Biology: Mind

/Body in Health and Illness
The theory of traditional wisdom and modern science is that mind and body are a oneness. Thus, diseases or health cannot be isolated from neither our emotional expreinces nor from our existence in a family, community and broader culture. Contrary to this, contemporary medical practice regards mind and body separately and are considered in isolation.
This keynote explored the science of mind/body unity in health and illness, combining the most recent research and the insights gained by Dr. Gabor Maté. The ultimate lesson is that there is no healing without integration.
In a sense, even though we are individuals, we also are each fractals of the world we inhabit.
When I talk about being connected to ourselves, I'm talking about actually knowing what we feel and experience in a given moment, and being able to interpret that appropriately. Without that capacity, we're lost. We were born with that capacity – you've never met an infant who's not connected with its gut feelings.
By the time you talk to adults, you find many people who even if they have their gut feelings, they ignore them. Something happens between infancy and adulthood that disconnects us. What that is, is our need for acceptance by our environment.

If our environment cannot support our gut feelings and our emotions, then the child, in order to 'belong' and 'fit in' will automatically, unwittingly and unconsciously, suppress their emotions and their connections to themselves, for the sake of staying connected to the nurturing environment, without which the child cannot survive. A lot of children are in this dilemma – 'can I feel and express what I feel or do I have to suppress that in order to be acceptable, to be a good kid, to be a nice kid?'
Then we get into adulthood, and all of a sudden we say
'I don't know who I am'.
/Dr Gabor Maté on Childhood Trauma, The Real Cause of Anxiety and Our 'Insane' Culture, 2020
humanwindow.com/dr-gabor-mate 
Mental illness is on an unstoppable rise.
In his new masterpiece, The Myth of Normal: Trauma, Illness & Healing in a Toxic Culture, author Dr. Gabor Maté explores the underlying causes of this phenomenon – examines the physical and emotional elements, and connects the dots between our personal suffering and the pressures of modern-day living.
Dr. Maté has found that the common definition of 'normal' is false: essentially all disease is in fact, a natural reflection of life in an abnormal culture, as we grow further and further apart from our true selves. However, to show us the way out of this dispair, he also points us to the pathway to reconnection and healing.
Filled with stories of people suffering from illness or succeeding in a triumphant recovery, this life-affirming book is a testimonial to the possibility of true health – if we are willing to embrace authenticity above social expectations.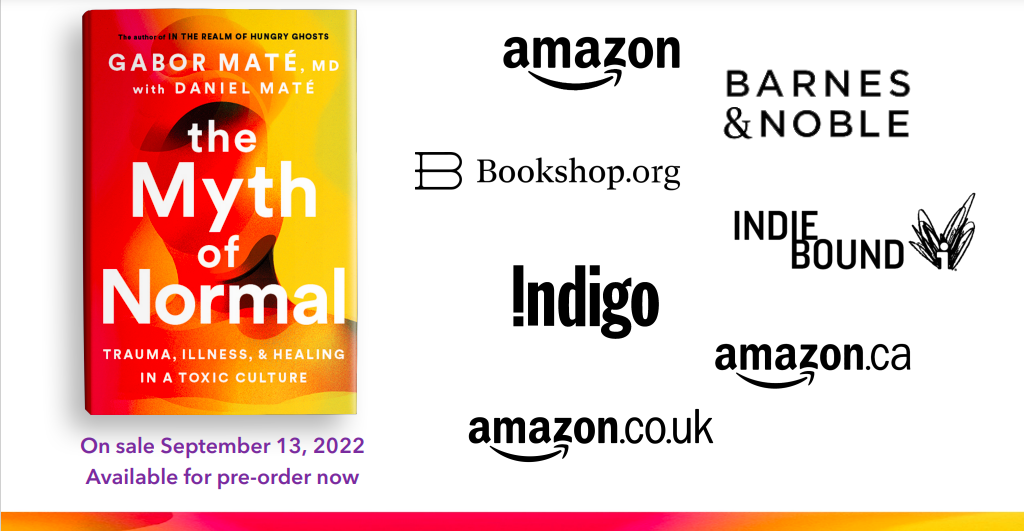 Read more about his topics and work!
Addiction
Dr. Gabor Maté suggests a compassionate approach toward addiction, whether in ourselves or in others. He believes that we should not seek the source of addictions in genes but rather in the early childhood environment.
Nothing itself is addictive on the one hand," says Dr. Gabor Maté. "And on the other hand, everything could be addictive if there's an emptiness in that person that needs to be filled.
Addiction is not in itself the problem but rather an attempt to solve a problem. "Our birthright as human beings is to be happy, and the addict just wants to be a human being."

"The primary drive is to regulate your situation to something more bearable." So rather than some people having brains that are wired for addiction, Maté argues, we all have brains that are wired for happiness. And if our happiness is threatened at a deep level, by traumas in our past that we've not resolved, we resort to addictions to restore the happiness we truly crave.
/How dealing with past trauma may be the key to breaking addiction
https://www.theguardian.com
Childhood Development & Parenting
The child's relationship with nurturing adults plays a crucial part in healthy development. The conditions for healthy child development are gradually under threat in today's society. It is constantly getting more and more difficult for parents and teachers to maintain their leading position in face of the multiple challenges posed by modern culture.
We also know that the brain itself, the human brain itself, is shaped by the environment. Brain development occurs in reaction to the environment. The necessary conditions for healthy brain development are healthy relationships with responsive parents. When the parenting environment becomes distorted or hostile and abusive, you're actually distorting people's brain development. This means they are going to be more likely to want to use substances to feel better in their brain in order to achieve a different state of the brain. 

Whether we are talking about the emotional pain and the shame that's at the heart of addiction or whether we are looking at the brain physiology of addiction, which is very much influenced by childhood experiences, we are looking at the impact of trauma.
/Addiction is a Response to Childhood Suffering: In Depth with Gabor Maté
https://www.thefix.com/dr-gabor-mate

Trauma is the invisible force that shapes our lives.
However, in The Wisdom of Trauma film, Dr. Maté gives us a new approach: a society that is not built on refusing to acknowledge traumas, constantly making diagnoses, suppressing symptoms and judging but one where parents, teachers, physicians, policy-makers and legal personnel strive to understand and discover the sources of troubling behaviors and diseases springing in the wounded human soul.
The film offers a powerful vision for hope, compassion and the healing of our world.
Watch the trailer now!
Dr. Gabor Maté is a retired physician who, after 20 years of family practice and palliative care experience, worked for over a decade in Vancouver's Downtown East Side with patients challenged by drug addiction and mental illness.
The bestselling author of four books published in twenty-five languages, Gabor is an internationally renowned speaker highly sought after for his expertise on addiction, trauma, childhood development, and the relationship of stress and illness.
His book on addiction received the Hubert Evans Prize for literary non-fiction. For his groundbreaking medical work and writing he has been awarded the Order of Canada, his country's highest civilian distinction, and the Civic Merit Award from his hometown, Vancouver. His books include In the Realm of Hungry Ghosts: Close Encounters With Addiction; When the Body Says No; The Cost of Hidden Stress; Scattered Minds: The Origins and Healing of Attention Deficit Disorder; and (with Gordon Neufeld) Hold on to Your Kids: Why Parents Need to Matter More Than Peers.
This page is under redesign, please check back later. Sorry for the inconvenience.