Can Western Medicine Ever be Non-dualistic?
Non-duality, or advaita in Sanskrit, which means "not-two," has been the backbone of all mystical, esoteric and holistic frameworks. It refers to the singularity in the internal-external world and the underlying connectedness of our illusory separate lives.
When one recognises this, the weight they bear dissolves along with their identity. Causalities become systematic instead of partial. It's the antidote to an atomised world. While this idea has been deeply woven into Eastern medicine, like Traditional Chinese Medicine or Ayurvedic, and at last, the Western world is slowly catching up. Today, there are teachers, conferences, meditations, substances, Burning Man, workshops, and even coloring books dedicated to realizing this premise, causing a gradual but revolutionary collective shift towards less ego in households, on the roads, and in institutions. Healthcare being one of the bigger bites for this movement to take over…
That being said, it's our honour to announce the keynote of Gabor Maté at IEC 2023 in May. He is a renowned expert in trauma, development, stress, and addiction and his keynote is titled "It's All One: Awakening to Reality, Within and Without."
This could be the most spiritual keynote given by a physician who is trained and widely acknowledged by the western system!
Our excitement is multi-faceted, looking forward to him joining us live again, just like last year's IEC. His respected brand can carry the age-old notion of non-duality into the mainstream public eye and western institutional acknowledgment. His influence is felt even now, but years from now, he could likely become the Gandhi of healthcare. A noble, compassionate, and peaceful strive for the acknowledgement of millions.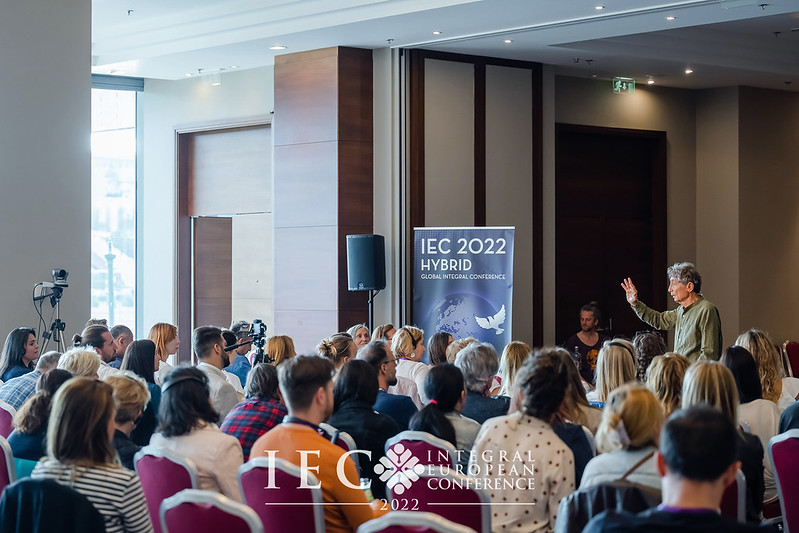 Gabor's Abstract:
Although modern psychology and medicine concern themselves mostly with individual suffering and healing, in realty our development and health or illness depend on the multiple interconnections between the person and her/his/their environment.
If there is such a thing that Planetary Awakening, where there is a consciousness shift for the whole planet, joining humans with their world, it surely needs to involve people's inner healing.
This talk, based on Gábor Maté's international bestseller, The Myth of Normal, will articulate and demonstrate that for a complete view of how we grow, thrive or suffer or heal, we need an integrated perspective that sees past the false barriers set up by the individualistic ideology of our current culture.
Gabor's Background:
Gabor Maté (pronounced GAH-bor MAH-tay) is a retired physician who, after 20 years of family practice and palliative care experience, worked for over a decade in Vancouver's Downtown East Side with patients challenged by drug addiction and mental illness.
The bestselling author of four books published in thirty languages, Gabor is an internationally renowned speaker highly sought after for his expertise on addiction, trauma, childhood development, and the relationship of stress and illness.
His book on addiction received the Hubert Evans Prize for literary non-fiction. For his ground-breaking medical work and writing he has been awarded the Order of Canada, his country's highest civilian distinction, and the Civic Merit Award from his hometown, Vancouver.
His books include :
In the Realm of Hungry Ghosts: Close Encounters with Addiction;
When the Body Says No; The Cost of Hidden Stress;
Scattered Minds: The Origins and Healing of Attention Deficit Disorder;
Hold on to Your Kids: Why Parents Need to Matter More Than Peers (with Gordon Neufeld);
The Myth of Normal: Trauma, Illness and Healing in a Toxic Culture.
To learn more, join his e-news here: https://www.drgabormate.com.
If you still haven't, make sure to plan ahead, as we are merely 2 months away from the conference in Hungary. Check out some further information about the most optimal accommodation, travel logistics here:
With Love
The IEC Team